Call me crazy but isn't Rock'em Sock'em Robots showing up everywhere? I'm getting sick of it! Don't get me wrong, I love Rock'em Sock'em Robots! Its just that to me, Rock 'em Sock 'em Robots is a game from the 1960's and 1970's by Marx. It has to have this label on it:
Rock'em Sock'em Robots is not a game by Mattel from 1996! Its not a video game either. And its not giant robots taking on a Dodge Ram truck... and losing! The Blue Bomber would never lose to a truck!
Okay, Okay, now that I'm done with my rant, I guess I admit that it is cool that the old toy is getting some fame. The new commercial for Dodge is pretty cool. If you haven't seen it yet than you obviously don't watch NFL football. It is on at least twice a quarter! You can see it here on YouTube:
Rock'em Sock'em Robots Dodge Commercial

The video game I'm talking about is a GameBoy Advance game. I haven't played it, but I think it gets a little carried away. In addition to the famous "Red Rocker" and "Blue Bomber", the game features the "Black Bruiser", "Brown Bully", "Orange Oppressor", "Yellow Yahoo", "Silver Stretcher", "Purple Pyro", "Green Grappler" and the "Pink Pummeller". Oh please - no.
You can check it out on Game Spy.
Of course our great Marx game has been showing up a lot over the years in popular culture. They played it in a episode of "Friends", I'm told it has appeared on "The Simpsons" and "Futurama". The robots were bit characters in "Toy Story 2" and the game was in the background on a shelf in Mr. Incredible's office in "The Incredibles". Scott Calvin also gave it as a gift to one of the teachers in "Santa Clause 2". I'm sure there are more, but those are the ones I know about.
One more place that the robots will appear is in my new Toys2Remember.Com website logo. I am still learning how to author websites, so it is not yet live but this is the first version: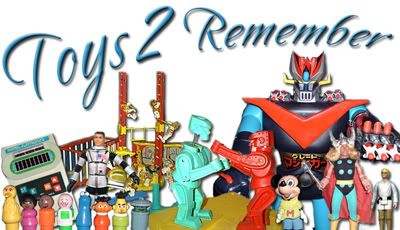 It is indeed the Marx version, I assure you. In a future post, I will talk about the other toys in my montage. Today is reserved only for our treasured friend Rock 'em Sock 'em Robots. So one last Rock'em Sock'em thing to leave you with that I'm sure will "Knock Your Block Off", is this original Marx commercial from the 1960s that I found when looking for the Dodge commercial. It sure makes me remember when. How about you?
Rock'em Sock'em Robots 1960's Commercial
************************************************
If you have read anything in this post that interests you or helped you bring back memories, I would love to hear from you. Please comment or send me an email.
I have many other toys that I can write about and show pictures of. Please comment or email if you have a favorite toy form the 60's, 70's, or 80's that you would like me to post about. If your favorite toy is before the 60's or after the 80's, I will still give it a shot. I have many of my Dad's old toys, and I know about the more recent ones too.
This blog is for you. It's for everyone. Together, lets talk about the Toys 2 Remember! Thanks!!
*************************************************